Work with ingenuity and focus! If you want to know more about the actual application of [Jet transfer pump] products, please browse the following Jet transfer pump product information in detail or call Zhongyuan innovation [Jet transfer pump] technical consultation hotline: [+8618539447368] to learn more experience information!
Jet transfer pump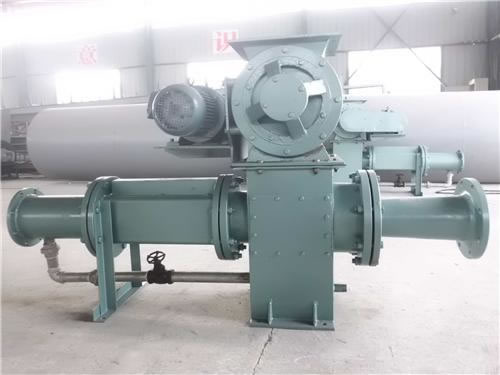 Jet conveying pump is a new generation of low pressure continuous pneumatic conveying equipment developed and improved independently by our unit. The equipment has been widely used in the dust collection under the dust hopper of dust precipitator in thermal power plants, as well as in the powder transportation and transfer process of metallurgy, chemical industry, building materials, wharf and other industries.
The pump has the advantages of simple structure, reliable operation, full seal and high degree of automation.
Jet conveying pump is a special equipment developed by combining the principle of air pressure difference with jet flow technology and fluidization technology to fully absorb the theory of modern pneumatic conveying two-phase flow. After years of operation practice, it is developed for the characteristics of continuous conveying in a large number of close distance requirements in the pneumatic conveying process of powder. Specifications, models and technical parameters
Project model and specification
PSB100-5
PSB125-10
PSB125-15
PSB150-20
PSB200-30
PSB200-50
PSB200-80
Transport capacity(th)
3~5
5~10
10~15
15~20
20~30
30~50
50~80
Match the fan air volume(m2/min)
≤15
≤22
≤35
≤45
≤55
≤65
≤75
Air intake/discharge line matching
DN100
/DN125
DN125
/DN150
DN125
/DN150
DN150
/DN170
DN150
/DN200
DN200
/DN200
DN200
/DN250
Design pipe velocity(m/s)
12~16
12~16
12~16
12~16
12~16
12~16
12~16
Working pressure(kpa)
≤98.0
Pump body material
Cast copper
Feeder configuration power(kw)
1.5
1.5
2.2
2.2
3.0
3.0
4.0
Gross weight of equipment(t)
1.0
1.4
1.8
2.2
2.5
2.6
3.0
Made in China to help globalization! Thank you for your attention to the Jet transfer pump product information on the Zhongyuan innovation website, and welcome your valuable suggestions to jointly promote the international competitiveness of Made in China! If you have any questions about ZHONGYUAN Jet transfer pump, please call ZHONGYUAN technical engineer [+8618539447368].